1.     Improves flavor and taste.
2.   Prevents oxidation and degradation.
3.   Prevents defects in the quality of products.
4.   Improves flow meter accuracy.
5.     Eliminates the need for anti-foaming agents.

6.     Eliminates the need for a vacuum vessel. Eliminates air-release during start-up operations.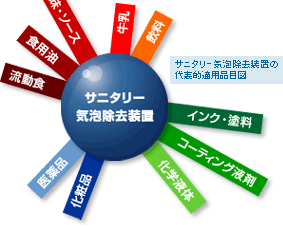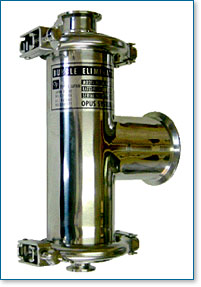 Tea⋅Milk
TeaTea
TeaSoup
TeaCoffee
TeaSesame-tofu
TeaChocolate sauce
TeaTofu with sea weed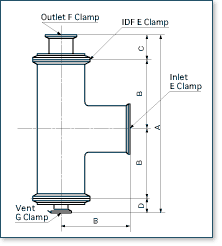 1.     1. Availability-Sanitary units are selected when ease of disassembly for cleaning and sterilizing is necessary.
2.  Material Options: ・Body ... SUS304/SUS316/SUS316L ・Seal ... Teflon or Kalrez 
Soup 2. Material Options: ・Body ... SUS304/SUS316/SUS316L ・Seal ... Teflon or Kalrez、SUS316、SUS316L
2. Material Options: ・Body ... SUS304/SUS316/SUS316L ・Seal ... Teflon or Kalrez … テフロン、カルレッツ
3.     Heat Endurance Limits: ・Teflon ... 200oC ・Kalrez ... 150oC⋅Sesame-tofuCoffee … 200°C
⋅Sesame-tofuHeat Endurance Limits: ・Teflon ... 200oC ・Kalrez ... 150oC … 145°C
4.    IInternal surface finishing ... Buff#320~#400. … バフ#320~#400
5.    internal flow resistance ... 30 psi … 標準0.2Mpa
6.    Pressure endurance test ... 45 psi 6. Pressure endurance test ... 45 psi
OPUS SYSTEM, INC. (Manufacturer)

(製造元)


TEL : 81-3-5347-0645 / FAX : 81-3-5347-0647
E-mail : bubbless@opussystem.com bubbless@opussystem.com